A motorcycle accident in Stoughton sent two motorcyclists to the hospital after they were hit near the intersection of Warren Ave. and Washington St. on Route 138 by a car that left the scene, according to the Stoughton Patch. Stoughton Police and Fire responded to the motorcycle accident and sent the two motorcyclists to the hospital with what appeared to be non-life threatening injuries.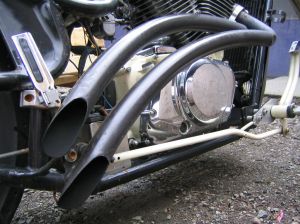 Our Boston motorcycle accident attorneys would like to point out that this accident happened around 12:30 p.m., which illustrates the dangers that motorcyclists face on our roadways. Motorcyclists are most likely involved in car accidents in broad daylight. Because of their small size, motorists oftentimes overlook these two-wheeled travelers.
The male motorcycle driver was taken to Good Samaritan in Brockton. The female passenger was taken to Boston Medical Center in Boston.
According to the Executive Officer Robert Devine of the Stoughton Police Department, the car "took a sharp turn [a left turn] onto Warren Ave. from Route 138," and failed to yield to the oncoming motorcycle.
The driver of the motorcycle swerved to avoid hitting the vehicle, but the motorcycle fell to its side and struck another car. Devine said the incident is still under investigation.
The Stoughton Police are on the hunt for the driver of the vehicle that allegedly caused the accident. They say they've been informed that it was an elderly woman that was driving a blue Mercury or Buick with a license plate ending in "120," They plan to cite her with failing to yield to an oncoming motorcycle.
According to the National Highway Traffic Safety Administration, there were nearly 5,500 motorcyclists killed in 2008. This is the most recent data provided by the Administration regarding these accidents. During that year, roughly 96,000 motorcyclists were injured on our roadways. If you calculate it by per vehicle mile traveled, motorcyclists are nearly 40 times more likely to die in a motor-vehicle accident than an occupant of a passenger vehicle. Massachusetts witnessed more than 40 motorcycle deaths in 2008 alone.
Motorists play a huge rule in the safety of motorcycle riders. By raising awareness of the presence of motorcyclists on our roadways, we can help to encourage passenger-vehicle motorists to driver safer and more cautiously in an attempt to keep our roads safe and accident free.
Motorists are urged to follow these safety tips to help to avoid an accident with a motorcyclist:
Always check for motorcyclists in your blind spots. Because they're so small, they can oftentimes get lost in these spots and are ignored by motorists.
Allow a motorcycle to occupy the entire lane. Do not share lanes with a motorcyclist. Treat them as you would any other motorist.
Do not follow too closely. They have a harder time stopping on slippery, wet pavement.
Remember that motorcyclists will oftentimes slow their vehicle by downshifting instead of using their brakes. This means there will be no brake light activated. This is another reason you should never follow too closely.
Always assume they are closer than they appear. Because of their small size, these small vehicles can oftentimes appear to be farther away than they actually are.
Be alert of a signaling motorcyclist. Their turn signals are not self-canceling like those on passenger vehicles. Make sure that a motorcyclist's signal is for real.

Boston motorcycle accident lawyers at Jeffrey Glassman Injury Lawyers, LLC, have more than 18 years experience handling serious and fatal traffic accident cases and representing those injured or killed in a Massachusetts motorcycle accident. If you have been injured or someone you love has been injured or killed in a Boston-area accident, talking with an experienced attorney can help you better understand your rights. To schedule a free initial consultation call our offices at (617) 777-7777.
Additional Resources:
Serious Crash Involving Motorcycle Sunday in Stoughton Sends Two to Hospital, by Jeffrey Pickette, Stoughton Patch
More Blog Entries:
Shelburne Falls fatal motorcycle accident highlights highway hazards for Massachusetts bikers, Boston Personal Injury Attorney Blog, September 30, 2010
Boston scooter accident kills emergency room physician, Boston Personal Injury Attorney Blog, August 30, 2010
Aerosmith guitarist injured in Massachusetts motorcycle accident, Boston Personal Injury Attorney Blog, July 20, 2010