At the end of year and the beginning of every year, the media likes to publish lists and remind us of events that took place during the past year. Some of these are lists of good things, others are just for entertainment, and some are lists of unfortunate events.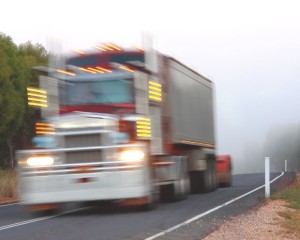 One of the events that takes place towards the end of every year in the fall is Commercial Vehicle Safety Alliance's Operation Safe Driver Week. This commercial vehicle safety week involves increased weight and size safety inspections for commercial motor vehicles across the country.
In the United States, the Department of Transportation (DOT) is responsible for making regulations that affect interstate trucking. DOT has the power under the Commerce Clause of the United States Constitution, since it involves interstate transit of goods for sale. There are many DOT regulations that pertain to commercial drivers. This is true whether the driver is Boston or across the country. One of the most important safety rules is that drivers can only drive for a certain number of hours of each day.
Many truck drivers are paid by the mile and not by the hour. Generally, only bus drivers and local delivery drivers are hourly employees. Over-the-Road (OTR) truck driver are paid based on mileage, and the longer it takes them, the less trips they can do in month. |This means that if it were up to some drivers, they would drive when they should be sleeping and would be consuming energy drinks and caffeine so they don't fall asleep behind the wheel. This is extremely dangerous and could result in a serious car accident involving a 52-foot truck weighing over 40,000.
The other main regulations involve the weight of cargo in a trailer and the size of load. Oversize loads require special permits and pilot vehicles warning other drivers of the oversize load. Anyone who has spent any significant amount of time on the highway has probably seen these vehicles around a truck with an oversize load. The reason an overweight truck is so dangerous is because it cannot stop in time to prevent an accident, and it is more likely to flip over or jackknife. As our Boston truck accident attorneys have seen on many occasions, truck accidents are among the most serious accidents, due to the size and weight of the truck.
According to a recent news feature from Heavy Duty Truck, last year during safety inspection week, increased patrols and inspections led to a considerable increase in citations, which demonstrates that many drivers are not adhering to DOT regulations. There are a variety of reasons a driver might be driving an overweight rig. It is possible the driver did not know, but that is not an excuse. It is also the reason there are certified truck scales at every truck stop in the nation. Employers may overload trucks to save trips and make more profit, or a driver who is an owner operator may agree to take an overweight load for more money.
If you are injured in an accident in Massachusetts, call Jeffrey Glassman Injury Lawyers for a free and confidential appointment — (617) 777-7777.
Additional Resources:
Trucks Cited for Size/Weight During Safe Driver Week, January 5, 2016, HDT, By News Staff
More Blog Entries:
Pedestrian Dragged Hundreds of Feet in Car Crash – Western Massachusetts, June 13, 2015, Boston Car Accident Attorney Blog