According to a recent news feature from Rolling Stone, rapper Fetty Wap is in the hospital after being injured in what is being described as a serious motorcycle accident.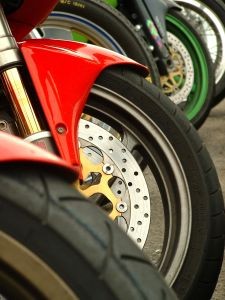 Witnesses say the famous rapper was riding his motorcycle in Patterson, New Jersey, the city where he is from, when he collided head-on with another vehicle. Paramedics were called to the scene, where they provided immediate medical attention to Fetty Wap before transporting him to a local level-one trauma center.
While the extent of his injuries is not fully known, a source close to the rapper reported that he is conscious and able to speak. His management company also released a statement saying their client is conscious and in stable condition. It is believed he may have suffered a number of bone fractures as well as possible internal injuries.
One of Fetty Wap's associates tweeted a photo of the rapper sitting up in a hospital bed with a splint on his leg and a bandage on his arm.   The tweet accompanying the photograph read "wap is Gucci everybody thank you for your prayers #Amen" In addition to this photo, another Twitter user posted photos from the day of the accident showing Fetty Wap on a stretcher and being put in an ambulance. There were also photographs of his wrecked motorcycle, and one picture of the rapper lying on the ground with the motorcycle, wearing an oxygen mask, and being treated by paramedics. The recording artist was scheduled to do a show in New Jersey and had just posted video of himself riding his bike before the serious motorcycle accident occurred.
Our Boston motorcycle accident lawyers would like to take this opportunity to wish Fetty Wap a quick and complete recovery from this serious accident. As we have seen all too often, many who are involved in motorcycle accident are killed or seriously injured, as there is very little protection in the event of a collision. It is also essential that you wear an approved motorcycle helmet with face shield or appropriate eye protection. While some people choose not to wear a helmet, even in Massachusetts where a helmet is required by law, there is no question that is it much safer to wear a helmet and face shield.
Most people can recall a time when they were riding, and a small rock or piece of debris on the road hit the windshield at a high rate of speed. In addition to the loud crack or snapping sound, sometimes the window is left with a small or large crack. A face shield on a helmet prevents this causing serious personal injury to a motorcycle rider.
Even though there is no question that riding a motorcycle is very dangerous in the event of a car accident, it does not mean that people should not ride a motorcycle, and it does not mean an at-fault rider can escape liability by claiming motorcycle rider would not have been injured had he or she been in a safer car, truck, or SUV. The reason for this is because, under the law, the defendant must take plaintiff as he or she finds him. In other words, even though the defendant was riding a motorcycle, the at-fault driver may still be fully liable for any damage caused.
If you are injured in an accident in Massachusetts, call Jeffrey Glassman Injury Lawyers for a free and confidential appointment — (617) 777-7777.
Additional Resources:
Fetty Wap Hospitalized After Motorcycle Crash in New Jersey, September 26, 2015, Rolling Stone, by Daniel Kreps
More Blog Entries:
Massachusetts Drivers Rated Poorly in Terms of Serious Car Accidents, Sept. 6, 2015, Boston Car Accident Attorney Blog