According to a recent news article from Boston Herald, an 83-year-old man who was the victim of a serious car crash, was in an ambulance being rushed to the hospital when the vehicle was stopped by protesters who had chained themselves to 12,000 pound barrels of concrete.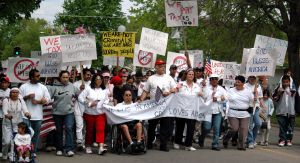 Police say first responders had to cut the victim out the car and put in him in an ambulance so he could be transported to Boston Medical Center for immediate care in the emergency room. Boston emergency dispatchers were forced to detour the ambulance to another trauma center in Brockton.
The hospital to which they were headed is a Level One trauma center in Boston, which was in a position to provide the best and fastest access to trauma surgeons. Unfortunately, EMS workers realized the delay in getting to the hospital could significantly reduce his chances of obtaining timely treatment for his serious injuries, and decided to reroute to the further hospital.

Luckily, in this instance, while his condition was not fully reported, it is believed his injuries, while serious, were not life-threatening. He was ultimately able to get the necessary care at the Brockton hospital.
As our Boston car accident attorneys understand, if a person is injured in an accident, and then further injured due to the negligent or intentionally tortious conduct of others, this is known in the legal community as an intervening cause. The original tortfeasor (at-fault driver in the case of a car accident) may or not be responsible for any injuries cased by the intervening cause. If the secondary accident or injury is determined to a superseding cause, the first tortfeasor will not be liable for any additional injuries caused by the second tortious act.
For example, if a driver hits another car or pedestrian and was negligently responsible for the accident, he or she may be liable for additional intervening injuries. Let's say a victim is cut out of his car using the Jaws-of-Life and placed in an ambulance to be taken to a local Boston trauma center. On the way to the hospital, another accident occurs involving the ambulance. The ambulance is unable to take the patient to the hospital quickly enough to save the patient's life. The test to determine if original at-fault driver is responsible for victim's death deals with foreseeability of second accident.
If it was foreseeable that an ambulance on the way to the hospital would be involved in a routine traffic accident, and he would have lived had it not been for the delay, original tortfeasor may be liable for victim's death. This does not however mean second at-fault driver will not also be responsible for any damage he caused. It only means first driver is not off-the-hook for these additional injuries.
If it was not a foreseeable accident, such as an ambulance driver being intoxicated and running off the road in a reckless manner, this may be determined to be a superseding cause of victim's death. In this case, victim may not be responsible for patient's death, but would still be responsible for the first accident.
If you are injured in an accident in Massachusetts, call Jeffrey Glassman Injury Lawyers for a free and confidential appointment: (617) 777-7777.
More Blog Entries:
Woman Run Over by Own Car at Massachusetts Hotel, June 26, 2014, Boston Car Accident Lawyer Blog