According to a recent news feature from the Boston Herald, authorities responded to a Quincy car accident on a Saturday night and found something that surprised them. Authorities reported defendant told them he was "an Idiot" for using a cigarette lighter to light his cigarette when he had gun powder in the front seat of his vehicle. This apparently to led to an explosion resulting in his eyebrows and eye lashes being burned off, at which point he is said to have crashed into a guardrail, resulting in serious, but non-life threatening injuries.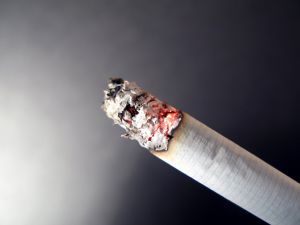 Authorities say they found bomb-making materials in his car and then obtained a warrant to search his home. During this search, authorities allegedly found precursor components, detonators and an incendiary device.
Prosecutors charged defendant with multiple counts of possession of a destructive device and possession of components used to make a destructive device. He is currently in Brigham and Women's Hospital in Boston where court officials chose to hold his arraignment. During his arraignment, defendant was lying in a hospital bed with camera crews in his room. Defendant was seen trying to cover his face with a washcloth, saying he did not want to be on television, but then accidentally removed the washcloth too early, as his face was clearly captured by TV cameras. Though he is physically in a Boston hospital recovering from his car crash injuries, he is technically being held by the Quincy District Court without bond and will be transferred to the jail when he able to leave the hospital. It should be noted, he has not been convicted of any crimes and these are merely allegations.

As our Boston car accident attorneys can explains, while most car accidents are a result of simple negligence, some accidents are a result of extreme and outrageous conduct showing a complete disregard for the safety of others. These situations could involve cases of an extremely intoxicated driver, driver's engaged in street racing, and other dangerous activities.
In cases involving allegations of at-fault driver acting with a complete disregard for others' safety, the primary claim will still be negligence. This involves the four standard elements of negligence in a car accident case including duty, breach, causation, and damages. However, plaintiff's attorney can also file additional claims of gross negligence and demands for punitive damages. If proven at trial, this could result in double or even triple damages being awarded. Punitive damages are appropriate in cases where extreme and outrageous conduct is alleged because Commonwealth of Massachusetts Law allows juries to send a message this type of conduct will not be tolerated by our society and, as the name implies, to punish defendants for engaging in conduct showing a willful and wanton disregard for safety of others.
Though not easy to prove, some cases may also allow for recovery for negligent infliction of emotional distress, which can also result in additional damages. It should also be noted these allegations are very fact defendant and will not be available in most Boston car accident cases. For that reason you should speak your attorney about the facts relevant to your actual car accident.
If you are injured in an accident in Massachusetts, call Jeffrey Glassman Injury Lawyers for a free and confidential appointment: (617) 777-7777.
Additional Resources:
Accident reveals bomb-making material in car, two area homes , April 13, 2015, Boston Herald
More Blog Entries:
Why Do Boston Drivers Hit and Run?, July 3, 2014, Boston Car Accident Lawyer Blog