According to a recent news article from the Boston Globe, a two-car accident left a box truck with one wheel and most of the cab handing off the side of an elevated portion of Interstate 93 in Dorchester. The crash involved a box truck and Scion.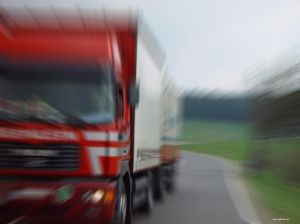 While investigators are still trying to determine the cause of the accident, much of their initial focus was on a complex rescue operation. According to a Massachusetts State Police spokesperson, the box truck hit a guardrail after colliding with the Scion and was launched on top of the concrete barrier at the edge of the roadway. This particular section of Interstate 93 was elevated above a series of railroad tracks and the South Quincy T station. MBTA personnel shut down the heavily used Red line T station and the immediate area was evacuated of all passengers. This also affected MBTA Commuter Rail service, due to the box truck dangling over the tracks. MBTA used a shuttle bus service to take passengers to the next operating station, though this added a significant amount of time to an already lengthy commute for thousands of riders.
Massachusetts State Police troops and Boston firefighters coordinated the operation using a large boom truck to lift the box truck off the side of roadway and get it ready to be towed away from the scene so rush hour traffic and train service could resume as soon as possible. Both drivers were apparently injured in this truck accident, and EMTs transported them to local Boston hospitals. There has be no report on either driver's medical condition, and authorities have not charged anyone with a crime in connection with this car accident as of this time.

As our Boston truck accident attorneys can explain, some accidents will take longer than others for accident reconstruction specialists to determine a cause. In some cases where the police do not find either driver to have been under the influence of alcohol and/or drugs, there will not be a considerable amount of time and effort expended in finding out exactly what happened, as their primary function is to investigate suspected crimes.
However, an experienced car accident attorney typically works with his or her own accident reconstruction specialist or private investigator, and they can conduct their own investigation into the cause of an accident. An investigation might involve looking at video taken of the accident on surveillance cameras, interviewing witnesses, observing road conditions, and speaking with authorities and first responders.
The faster your attorney's investigator can get to work looking into the cause of the accident, the better your chances of a favorable outcome, once it has been determined an accident was another person's fault. Having the ability to get to the scene as soon as possible is important, because witnesses may be harder to find later, and police who regularly investigate traffic accidents may not remember exactly what happened as time goes by, as they have likely been involved with many more traffic accidents.
If you are injured in an accident in Massachusetts, call Jeffrey Glassman Injury Lawyers for a free and confidential appointment: (617) 777-7777.
Additional Resources:
Truck dangling off side of I-93 in Dorchester snarls traffic , April 16, 2015, Boston Globe
More Blog Entries:
Floyd-Tunnell v. Shelter Mut. Ins. Co. Uninsured Motorist Coverage and Stacking, July 3, 2014, Boston Car Accident Lawyer Blog