According to a recent news feature from CBS Local Boston, five people, including a Massachusetts State Police (MSP) trooper, were injured in a multi-vehicle car accident on Interstate 93 in Boston.  Authorities say the crash occurred around three in the morning near a Boston exit.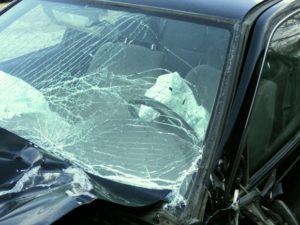 Witnesses say the trooper was at the scene of what turned out be the serious car accident conducting an investigation of another crash that had already happened.  The trooper had his cruiser parked next to the two-car accident, and his emergency lights on his Ford SUV were activated.
At this point, witnesses say a late model Honda Accord that was allegedly traveling at a rate of speed above the posted limit crashed into the police cruiser. When the car hit the police cruiser, the cruiser skidded into the roadway and slammed into another vehicle.  The cruiser then came to a stop on the other side of the roadway opposite where the first accident occurred.
First responders were called to the scene of what was a second Boston car crash and when they arrived, they determined that multiple victims were unconscious.  They saw that the trooper had suffered a head injury and was bleeding and had not regained consciousness.  They took the trooper to Massachusetts General Hospital (MGH) in downtown Boston.
A spokesperson for the Massachusetts State Police said that this accident was very similar to one that happened last month in which another trooper was injured and killed while he was conducting an assessment of another motor vehicle crash on the side of a major highway.  Many people do not realize that being hit by a car is one of the main reasons police officers and state troopers are injured or killed on the job, as these fatal accidents happen with much greater frequency than one in which an officer is shot by a suspect during the process of serving a warrant or making a routine traffic stop.
Police have also said that the driver of the car that collided with the state police cruiser would be facing charges in connection with this Boston car accident; however, they have not yet said what charges the driver will be facing. It is important to note that the driver has not been convicted of any crime in connection with this accident and is presumed innocent unless and until he is found guilty in a court of law.
As for the driver and occupants of the car that hit the state trooper's car, the driver and front seat passenger were both injured in the crash and taken to Tufts Medical Center in Boston's theater district neighborhood, and the two rear seat passengers were taken to Boston medical center for treatment for their injuries.  It should be noted that trooper was seated in his cruiser at the time of accident.  Even though he was not operating the vehicle, as he was using the car's laptop computer to retrieve information, he was wearing his seat belt, and that is said to have likely saved his life, though the total extent of his injuries is not known as of this time.
If you are injured in an accident in Massachusetts, call Jeffrey Glassman Injury Lawyers for a free and confidential appointment — (617) 777-7777.
State Trooper Among 5 Injured In Crash On I-93 In Boston, June 25, 2016, CBS Boston, By News Staff
More Blog Entries:
How is Your Teen Getting to the Prom? Massachusetts Liability Questions to Consider., April 11, 2016, Boston Car Accident Injury Lawyer Blog