Science fiction of the 1980s predicted a future with flying cars that could drive themselves. Here we are today – in that future – and flying cars aren't a reality. However, self-driving cars of one sort or another are here – and probably not going anywhere.  The two main companies working on a self-driving car at this time seem to be Tesla and Google.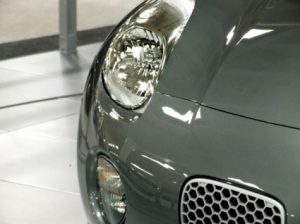 Google's self-driving car is supposed to be truly autonomous, in that a user can enter a destination and sit back and relax.  This system involves the use of around a dozen sensor devices including LIDAR units, and the company has said that it will be a few years before the product is ready for consumers. 
Google is also likely going to lease products of their system for use in cars made by automakers.  Tesla Motors on the other hand, has designed as system that is more of an advanced cruise control and is already on the market.  A Tesla with automated driving on can change lanes and slow down or speed when needed and is designed for driving on a single  road.  For this reason, it is considered an enhanced cruise control.
According to a recent news feature from Scientific American, a Tesla was just involved in a deadly crash while it was in self-driving or "Autopilot Mode" as the company calls it.  Authorities say the crash occurred when a semi tractor-trailer turned in front of a Tesla Model S vehicle in self-driving mode.  The turn was a left turn, and, as the truck crossed in front of the Tesla, the self-driving system did not detect the presence of the truck and therefore did not slow down to avoid the collision.  The driver of the Tesla was killed in the crash.  There was no one else in the vehicle at the time of the deadly car accident.
Unlike the Google system that uses lasers to verify the speeds and distances of vehicle, the Tesla system uses cameras that are supposed to see objects so the computer can interpret these images and make necessary corrections to acceleration, braking, and steering.  However, in this accident, the white trailer was close enough in color to the brightly-lit sky that cameras did not register the presence of the truck.
As our Boston car accident lawyers can explain, there are likely to be several questions involving liability when someone is injured or killed in a self-driving car accident, as it is likely we will see more of such incidents in the future. One issue deals with the fact that Tesla tells users that, like traditional cruise control, you must keep your hands on the wheel at all times and be ready to react in the event of an emergency.  The system was not designed to simply set it and forget it and not pay attention to the road.
However, based upon the very design on the system and promise the technology holds, it is very likely that many people will simply set the system on and not pay attention.  Some people will even fall asleep while their vehicle is on autopilot, and the company must be aware of this.
If you are injured in an accident in Massachusetts, call Jeffrey Glassman Injury Lawyers for a free and confidential appointment — (617) 777-7777.
Additional Resources:
Deadly Tesla Crash Exposes Confusion over Automated Driving, July 8, 2016, Scientific American, By Larry Greenemeir
More Blog Entries:
Report: Fall River Teen Killed in Car Crash on Way to Prom, June 26, 2016, Boston Car Accident Injury Lawyer Blog