Boston is the worst.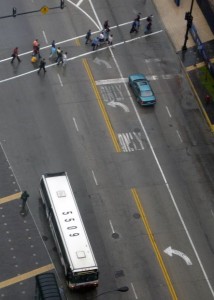 That is, if you're driving. Or on a bicycle. Or walking somewhere.
As Boston car accident attorneys, we could have told you that based on our decades of experience. But we're not the only ones who know. In 2015, Allstate ranked 200 major U.S. cities for the best and worst drivers in the country. Boston ranked dead last. 200th. Perhaps it shouldn't come as a surprise either that Worcester, MA ranked 199th, Springfield ranked 196th.
So given what we know about the poor driving habits in Boston and beyond, what can we do about it?
Well, certainly, some accidents are caused by poor road design and traffic engineering. Some of those issues are being addressed with Boston's Complete Streets initiative, which aims to protect vulnerable road users by retrofitting roads with features such as bike lanes, lower speed limits and more crosswalks that make the roads safer for cyclists and pedestrians.
But that's an ongoing process, and it won't solve the problems of drivers who are distracted, careless, drunk or reckless. The reality is most auto accidents are caused by one of these issues. It is going to take commitment from all drivers to use more caution.
Some of the specific ways in which drivers can reduce their chances of a crash include:
Take a defensive driving course. Although adults may not see the value in this, you can right off the bat usually save some money on your car insurance. Plus, a refresher course is always good. Most of these courses cost around $35, and you can get answers to questions like how to eyeball how far ahead the vehicle in front of you should be, what features can
Adjust your mirrors. Many drivers don't bother to do this when they get in the car, and it leaves them effectively blind to what's going around them in certain areas.
Avoid driving when you are tired. Sleep deprivation can act like alcohol impairment behind the wheel. A 2010 study showed that 1 in every 6 accidents involves a sleepy driver. If you absolutely have to get somewhere, consider public transportation or arranging for an Uber or taxi service.
Slow down. Everyone is in a hurry. We get it. But speeding – especially in urban traffic – doesn't really get you to your destination faster. All it really does is increase your chances of a car accident.
Learn more about lane merging. This is where that defensive driving course is effective.  A significant number of crashes are caused by merging errors. Some people do it on purpose out of aggression, but most simply misjudge the amount of time they have.
Avoid distractions. A recent study revealed drivers are distracted more than half the time they are behind the wheel. Motorists simply cannot effectively engage in two things at once. When you are driving, doing so safely needs to be your top priority. Try to map out where you are going before you leave, give yourself plenty of time and silence your cell phone. Better yet, put it out of reach so you aren't tempted to read that text while you're driving.
If you are injured in an accident in Massachusetts, call Jeffrey Glassman Injury Lawyers for a free and confidential appointment — (617) 777-7777.
Additional Resources:
America's Best Drivers Report, 2015, Allstate
More Blog Entries:
How is Your Teen Getting to the Prom? Massachusetts Liability Questions to Consider., April 11, 2016, Boston Car Accident Injury Lawyer Blog