In the Commonwealth of Massachusetts, distracted driving is real problem and leads to many serious car accidents. As part of their ongoing effort to curb distracted driving, state and local police are stepping enforcement in their respective jurisdictions as were now in the middle of Distracted Driving Awareness Month (April) in the Commonwealth of Massachusetts.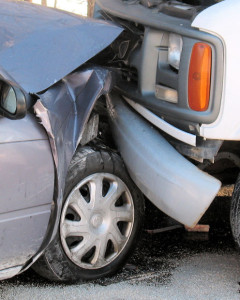 Despite these increased efforts to deter distracted driving, and catch those driving in a negligent manner, a serious car accident in newton alleged to be the result of distracted driving was recently caught on video according to a new feature from NECN.
The witness says he was driving his car in Newton when a woman cut him off and almost caused an accident.  At this point, he put his cellphone in his dash mounted cell phone holder and used it to record to the car that cut him off.  He said he could clearly see that she was texting on her cell phone at the time of the accident.
In the video, you can allegedly see this driver swerving back and forth on the road and even veering off the road into the shoulder and median.  Every time the car ran off the road, it would kick up dust and the serve back across the road. After it severed back and forth, the vehicle is then seen crossing over the center line of the roadway and crashing into another car head-on.
The car that the driver allegedly hit was jeep that was carrying a married couple and their infant child. Authorities were immediately called to the scene and saw that both cars involved in the accident sustained major damage, but the occupants were not reported to have suffered any serious injury as a result of the Newton car accident. Following the accident, the alleged at-fault driver was issued a citation for driving while texting, operation to endanger, and a market lanes violation.  The technical ordinance violation is knows as sending or receiving text messages while driving, and is part of a packet of somewhat recent anti-distracted driving legislation.
Many people do not realize that reading a text message while driving can be just as dangerous as driving under the influence of alcohol or drugs.  Police also what to people to know, as part of the state distracted driving campaign, that it is just as dangerous to use your phone to text messages while = sitting stopped a red light than it is to to text the actively driving.
However, texting while driving is not the only form of distracted driving.  Using a GPS, or even putting on makeup, actually causes on a regular basis throughout the greater Boston area.     If an alleged at-fault driver is issued a moving violation for texting while driving, which is a specific charge, this can be used by your Boston car accident lawyer as evidence at trial or when dealing an insurance adjuster from the at-fault driver's insurance company.
If you are injured in an accident in Massachusetts, call Jeffrey Glassman Injury Lawyers for a free and confidential appointment: (617) 777-7777.

Additional Resources:
 Head-On Collision Caught on Video in North Reading Puts Spotlight on Distracted Driving, April 7, 2016, NECN, Alysha Palumbo
More Blog Entries:
Floyd-Tunnell v. Shelter Mut. Ins. Co. Uninsured Motorist Coverage and Stacking, July 3, 2014, Boston Car Accident Lawyer Blog