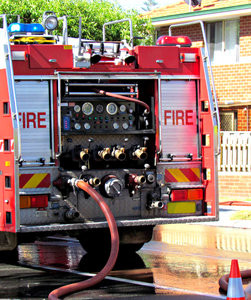 According to a recent news item, a 4-year-old boy suffered an injury known as "internal decapitation" after involvement in a car accident. Amazingly, he survived due to smart thinking from a rescue worker.  The victim was in a car being driven by his mother when the road became covered in ice from a large hailstorm.  The mother was driving her child home from a birthday party thrown for the child when she lost control of her vehicle due to the ice on the road and slid into another car traveling in the opposite direction.
Internal decapitation, also know as clinical decapitation, occurs when a person's skull separates from his or her spinal column. Unlike in the typical image of what we picture when we hear the term "decapitation," the victim's head does not actually separate from the rest of the body.  While a victim can survive an internal decapitation, he or she can easily die as a result of the injury, and this is especially more likely with young victims.
She was severely injured in the car crash, with multiple broken bones. She saw her son in his child safety seat and tried to reach him because he was not crying and not conscious. She tried to wake him up by talking to him, and he said the word, "Momma."
An off-duty police officer was driving with his wife when they happened to find the wreck ahead of them.  He saw that the mom was in her car trying to reach her injured son, but could not unlock the doors to get out and was also suffering from her broken bones.  He quickly broke the window and climbed in, lacerating himself in the process. He told his wife to keep the child in an upright position with his head and neck still.  He said he wanted to grab the child and hold him, but that would be very dangerous.
The child had suffered a broken arm and was oozing what was described as a pink gel of some sort.  Doctors believe that was the boy's spinal fluid.  The officer's wife immobilized the boy's head for half an hour until first responders arrived. When EMTs arrived, they put a collar on the child so she could remove her hands from supporting him, and then they put him on a backboard. EMTs called for a medevac helicopter and airlifted the child and his mother to a level-one trauma center.
The child was released form the hospital in a week with a halo-type collar to keep his head and neck immobilized while he continues to heal.  He can walk but is having trouble balancing.  This injury is medically known as an occipital-cervical dislocation, and, as our Boston car accident lawyers are familiar, this injury is most common in children who are victims in high-speed car accidents.  The accident typically occurs when the head and neck are moving in opposite directions due to a severe impact.  It is essentially like whiplash, but with much more force resulting in the internal decapitation. This victim had six vertebrae separated then forced back together and is an inch taller than before the accident.
If you are injured in an accident in Massachusetts, call Jeffrey Glassman Injury Lawyers for a free and confidential appointment — (617) 777-7777.
Additional Resources:
Good Samaritan helps boy survive 'internal decapitation' in Idaho car crash, June 7, 2016, Boston.com
More Blog Entries:
Pedestrian Dragged Hundreds of Feet in Car Crash – Western Massachusetts, June 13, 2015, Boston Car Accident Attorney Blog