Many jurisdictions have what are known as no-chase policies for police.  As the name implies, this means that police are not allowed to pursue a suspect via the high-speed car chase. The reason for this is because high-speed chases can result in serious personal injury and property damage to any number of innocent bystanders and may not even result in the apprehension of a suspect.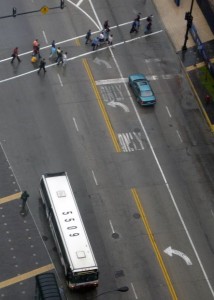 As it turns out, a radio or cell phone signal can travel a lot faster than a car, so it is better to just radio to units ahead who can set up a road block, or that can deploy tire damage strips to disable the fleeing vehicle. The police can also deploy an air unit to tag the suspect's vehicle using a forward looking infrared radar (FLIR) system, and that will make it very difficult for the car to escape, because it combines the heat signature of the vehicle and the radar signature of the vehicle.In Boston, there is not an absolute no-chase policy, but they are strongly discouraged unless the occupants of the vehicle pose a significant safety risk or threat of harm to the public if not stopped immediately. This gives them some room to conduct a chase, and the Massachusetts State Police (MSP) reserves its right to engage in a high-speed chase.
The problem is that when these result in a crash that causes serious personal injury to an innocent plaintiff, or even death, we often find ourselves in a situation where the suspect did not have any insurance.  This means your Boston car accident lawyer must explore other options for you to obtain a full and appropriate financial recovery.  In some cases, this means that your attorney will file what is known as an uninsured motorist claim with your own insurance company.
If you have insurance that was underwritten in Massachusetts, you likely have an uninsured (UM) or underinsured motorist (UIM) policy, even if you have never heard of these terms.  This is because the law in Massachusetts requires an insurance company to sell you UIM and UM coverage up to the limits of your actual policy, unless you specifically decline this coverage, and that rarely happens.
According to a recent news article from CBS Boston, a driver was killed after he allegedly fled police and led them on a high-speed chase that resulted in a fatal motor vehicle accident.  Authorities say he led police on a chase to Haverhill that came to an end when he crashed his vehicle into a large utility pole.
A spokesperson for the police department said police first came into contact with suspect on a routine traffic stop.  He was allegedly driving a car without a valid registration.  An officer asked him to show him proof of registration when driver sped from the scene.   The officers lost suspect, who had gotten too far ahead of them, but they saw a mangled car at the base of a large utility pole and immediately recognized the vehicle.  EMTs took driver to a local level-one trauma center, but his wounds proved too severe, and he was soon pronounced dead.
If you are injured in an accident in Massachusetts, call Jeffrey Glassman Injury Lawyers for a free and confidential appointment — (617) 777-7777.
Additional Resources:
Driver Dies After Fleeing From Merrimac Police, Crashing, June 4, 2017, CBS Boston
More Blog Entries:
School in Falmouth Holds Memorial for Student Athletes Killed in Crash, Feb. 12, 2017, Boston Car Accident Lawyer Blog