Many people have parents or other relativities who are getting older, and it may seem like it may be best for everyone if they are no longer driving. This can be a particularly difficult conversation to have, but, in the end, many will do whatever they have to in order to keep the person from driving in the future.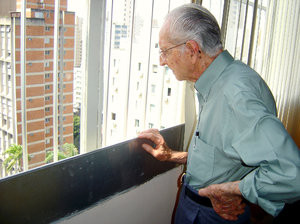 While everyone's intentions are good, a recent news feature from AAA suggests that taking away an elderly family member's keys can put that individual at a higher risk for serious health problems.   A recent study has found that elderly adults who are no longer driving are nearly twice as a likely to suffer from depression. These non-drivers are also around five times as likely to move into a nursing home or other long term care residence than adults of the same age who are still driving.
Studies such as this one are becoming more and more important as the number adults over age 65 is higher than ever before and is expected to increase. Of the current group of Americans age 65 or older, around 80 percent of them are still driving. The AAA study has also listed the consequences of giving up driving, or having driving privileges revoked by the RMV or a court following an accident.   These consequences include the following: reduced productivity, reduction in engaging in activities in the community, a significantly increased risk of depression, significant reduction in the amount of friends and social circles, an decrease in cognitive functioning ability, and increase in the chance of moving into a nursing home.
The reasons for this vary. One reason is that having a car and being able to drive oneself gives the person an opportunity to live somewhat independently, rather than having to rely on someone else to do everything. Maintaining a sense of independence has been shown to be very important for one's overall mental and physical health.
While it is certainly important to find a way for many seniors to be able to drive, thus maintaining their health and mental wellbeing, it cannot be done at the expense of the safety of other drivers and pedestrians on the roads and the sidewalks of the Commonwealth of Massachusetts. Unfortunately, our Boston car accident lawyers have handled numerous cases involving elderly drivers that probably should not have been behind the wheel of motor vehicle. This is not to say that licenses should automatically be taken away at a certain age or families should try to take the keys away. This is true for many reasons, including all of those discussed in this AAA study.
However, it is important to keep the safety of those on the roads and sidewalks in mind when making decisions as to what do, and there must be an effort to incorporate everyone's best interests. While this certainly will not be an easy undertaking, it should certainly be the goal. While this is the goal, there are some situations where it is clear that an elderly person can no longer safely drive a car, and family members must do whatever they can to prevent a serious car accident.
If you are injured in an accident in Massachusetts, call Jeffrey Glassman Injury Lawyers for a free and confidential appointment — (617) 777-7777.
Additional Resources:
Giving Up the Keys Equals Increased Risk of Health Problems in Older Adults, July 23, 2015, AAA Newsroom
More Blog Entries:
Pedestrian Dragged Hundreds of Feet in Car Crash – Western Massachusetts, June 13, 2015, Boston Car Accident Attorney Blog