According to a recent news article from the Boston Globe, one cyclist is unhappy with what he considers to be Boston's lack of timely effort in making the streets safer for bicycle riders after a series of deadly accidents.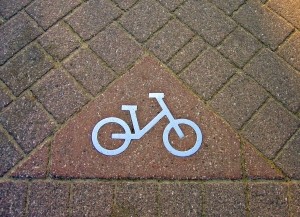 After reading a book about what is now being called tactical urbanism, this cyclist went to Home Depot and purchased orange road cones and baskets of mums flowers and used them to physically divide the painted bike lane from the vehicle lanes on Massachusetts Avenue near where it intersects with Beacon Street.  
Cyclist commutes daily from his home in Boston's Dorchester neighborhood to where he works in Cambridge and regularly rides on this section of Mass Avenue, which is known as one of the most dangerous in terms of serious and fatal bicycle accidents, as our Boston bicycle crash attorneys have often reported.   Just last month, an endocrine surgeon was riding her bike along that same stretch of road and was killed in a deadly accident.
Since having a physical divider between vehicle travel lanes and bicycle lanes has been shown to significantly reduce the chance of a car swerving into a bike rider, this cyclist hopes to increase his efforts by making more of what he is calling flower lanes. However, since he cannot afford to buy many more road cones and flower baskets, he is starting an online crowd source funding campaign to raise money. It should be noted, he does not ask permission or seek permits for making the flower lanes. As he says, he simply drops the cones or flower baskets in place and walks away.
As one could imagine,  the city of Boston takes issue. A spokesperson for the Boston Transportation Department (BTD) said she understands and even shares the concerns over bicycle safety with the cyclist and plans to continue efforts to listen to feedback from bicycle riders and do whatever they can to make things safer and avoid serious car and bike accidents. She said they will leave the flower pots there temporarily until new flexiposts could be installed in the next day or so. However, she also said the city could not condone private citizens dropping or placing any kind of item in an active roadway, as this could easily lead to someone being serious harmed or killed.
A flexipost is a post on a flexible base made mostly from recycled plastic, and they are commonly used to divide travel lanes in tunnels. The flexiposts will provide resistance and make a lot of noise if hit by a car, but will not cause the car to crash. Within a few days of BTD making its promise, the posts have been installed along this dangerous section of Mass Avenue near Beacon Street.
Satisfied with this first venture into tactical urbanism, the cyclist plans to take money he raised and use it buy more plants and cones to place alongside the curb in bike lanes to prevent drivers from illegally parking in bike lanes, as is often done. This creates a serous problem for bike riders, as they can either hit a parked car or must swerve into a travel lane, and this can result in a serious crash. The city has not said whether it will step up towing efforts in bike lanes.
If you are injured in an accident in Massachusetts, call Jeffrey Glassman Injury Lawyers for a free and confidential appointment: (617) 777-7777.

Additional Resources:
Cyclist creates temporary Mass. Ave. bike lane with plants, September 9, 2015, Boston Globe, Steve Annear
More Blog Entries:
Floyd-Tunnell v. Shelter Mut. Ins. Co. Uninsured Motorist Coverage and Stacking, July 3, 2014, Boston Car Accident Lawyer Blog