The National Highway Traffic Safety Administration reported in March that 10 automakers are now producing more than half their new vehicles with automatic emergency braking (AEB) technology.
It's the latest sign that tomorrow's vehicles will be increasingly reliant upon technology. We need look no further than the current controversy over the grounding of Boeing's new 737 MAX jet after two fatal plane crashes to see the risks of technology and transportation. Safety officials around the world are zeroing in on the MAX's computerized safety system after a second fatal airliner crash involving the Seattle company's new passenger jet. The Seattle Timesis reporting an analysis of the safety system relied upon by Boeing and the Federal Aviation Administration was likely fatally flawed amid concern that the pilots received inadequate training on the new jets before they were put into service.
The systems pushes the nose down to prevent a stall,  creating a deadly fight between the pilots and technology. Our defective product lawyers in Massachusetts know such defectives are often responsible for creating risks or exacerbating injuries on the nation's roadways.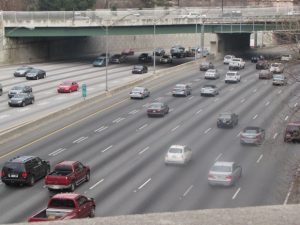 Traffic Safety and Product Liability
Thus far, Toyota and Nissan are leading the way when it comes to installing new technology in today's passenger vehicles. But a total of 20 auto manufacturers have pledged to manufacturer all new passenger vehicles and light trucks with AEB and forward collision warning (FCW) systems, as well as crash-imminent braking (CIP), to help prevent rear-end collisions.
"Technologies like automatic emergency braking can help make cars safer on the roads, which means Americans are safer when traveling," said NHTSA Deputy Administrator Heidi R. King. The Insurance Institute for Highway Safety estimates the new technology will prevent 28,000 motor vehicle crashes each year.
It's long been known that the human driver is the most dangerous part of the traffic-safety equation, which is way an increasing number of company's continue to focus on driverless technology. Much of this technology will undoubtedly reduce collision risks. But automakers also have a long history of selling dangerously defective vehicle's to the American consumer.
In recent year's the Takata airbag recallhas been the largest, high-profile case of dangerously defective vehicles endangering U.S. consumers. Roughly 37 million vehicles equipped with 50 million defective Takata air bags are under recall because these air bags can explode when deployed, causing serious injury or even death.
The Takata airbag recall is far from the only risk of dangerous or defective vehicles on the nation's roads. Thousands of vehicles are recalled each year in the United States, for dangers like fire risks, steering or braking issues, and faulty safety equipment. And far too many unsuspecting motorists continue to unknowingly use dangerous vehicles subject to mandatory recall. The NHTSA reports vehicles over 5 years old, which is typically when dealer service ends, have a recall compliance rate of just 56 percent, meaning about half of such vehicles remain on the road unprepared.
Unintended acceleration involving Toyota vehicles resulted in Toyota agreeing to a $1.2 billion settlement in 2014 to avoid prosecution for covering up severe safety problems.  Other high profile recalls include the Firestone Tire recall and the Ford Motor Company lawsuits over rollover accidents in Sports Utility Vehicles, which together resulted in more than $2 billion in damages.
Unlike an ordinary personal injury claim, you do not have to establish a vehicle seller of manufacturer's liability for a defect. Nor does a victim need to show a defendant acted in a carefulness manner. Motor-vehicle defect cases are controlled by the doctrine of strict liability. In such case, plaintiff need only show that a vehicle component was unreasonably dangerous, and that victim suffered injury. Plaintiff injury must occur while a product is being as used as reasonably intended, and product alterations must not be reason for a deceptive condition.
Staying Safe on the Road
Keep safety in mind when buying a new vehicle. 
The NHTSA also provides vehicle safety ratings through its New Car Assessmentprogram. The NHTSA first began using its 5-star safety rating system in 1993 and has been conducting side-impact testing since 1996.  A vehicle's NHTSA 5-star safety rating is required to be on the window label of all new vehicles.
In 2016, the NHTSA added automatic emergency braking (AEB) to its list of recommended technologies for all new vehicles. It also now recommends both Forward Collision Warning (FCW) and Lane Departure Warning (LDW).  The government believes these technologies will reduce lane departures, increase pedestrian safety, and provide better blind-spot detection and crash avoidance for drivers. Federal regulators site the history of seat belt use, airbags and tire-pressure monitoring systems as reasons to be optimistic such safety technology will significantly reduce the number of serious and fatal traffic collisions occurring on the nation's roads.
But navigating all of these options makes it more challenging when it comes to purchasing a new or used vehicle. Using safety ratings, Consumer Reports and insurance rates can help keep you safe from the start of ownership. But there will still be the matter of staying safe on the road as spring nears and more motorists hit the roads.
A Canton man was killed recently by his own pickup truck after getting out of the vehicle on Route 95 in Canton, forcing closure of the highway ramp for several hours. Keeping your new vehicle well maintained and understanding what to do in the event of a collision or breakdown can both help improve your odds of staying safe. Beyond that, it's just a matter of focussing on safe driving and avoiding distraction.
If a collision does occur, determining liability is best left to an experienced injury law firmin Massachusetts. As the increasing reliance upon technology in the nation's transportation system shows, cause of effect are not always what they seem.
If you have suffered personal injury in Massachusetts, call Jeffrey Glassman Injury Lawyers for a free and confidential appointment — (617) 777-7777.
Additional Resources 
Toyota to Pay $1.2B for Hiding Deadly 'Unintended Acceleration,'March 19, 2014, ABC News
More Blog Entries
Uber, Lyft, Taxi Accident Claims in Massachusetts, January 23, 2019, Jeffrey Glassman Injury Lawyers