A recent rash of hit-and-run and wrong-way collisions highlights the importance of reviewing your automotive insurance policy to make sure you have adequate uninsured motorist (UM)/underinsured motorist (UIM) coverage.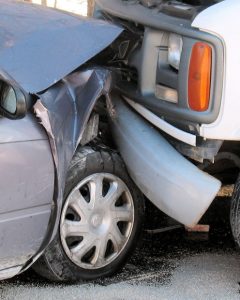 The Insurance Journal reports 1 in every 8 drivers is driving without insurance. While Massachusetts is among the states with the lowest percentage of drivers on the road without insurance (6.2 percent, according to the Insurance Research Council), a significant number of drivers remain on the road with mandatory minimum insurance limits that are inadequate to cover losses in the event of a serious or fatal traffic collision.
A disproportionate number of these collisions involve vulnerable road users, including bicyclists and pedestrians, who typically suffer very serious or fatal injuries in a collision. Our Boston car accident lawyers urge you to review your policy carefully.
Massachusetts auto insurance law  (MGL c.90, s.34A-34R Compulsory Motor Vehicle Liability Insurance) requires all drivers carry at least $20,000 per person bodily injury liability and a total of $40,000 bodily injury liability coverage per incident. Under M.G.L. Ch. 175, Section 113L drivers must also purchase uninsured motorist coverage to protect against hit-and-run drivers and those without insurance. However, underinsured motorist cover is not required.
Without significant uninsured motorist (UM)/underinsured motorist (UIM) coverage, your automobile insurance may offer you no protection in the event of a collision with a driver who is not identified, lacks auto insurance, or lacks coverage sufficient to compensate you for your injuries.
Hit-and-Run, Wrong-Way Collision Risks in Massachusetts
The Middlesex County District Attorney's Office made an arrest this week in a fatal hit-and-run crash that occurred in Somerville, the Boston Globe reported. The defendant is accused of striking two women walking on Powder House Boulevard near Hardan Road. One of the pedestrians was killed while the other was treated and later released from the hospital.
Meanwhile, the Legal Examiner is questioning what can be done about wrong-way crashes in Massachusetts, after the Jan. 10 death of a retired Massachusetts police sergeant and his wife. The couple was killed in a wrong-way crash after a pickup truck driver made an illegal U-turn and started traveling eastbound on the westbound highway. Nationwide, about 400 motorists a year die in wrong-way crashes. While fewer of these crashes occur compared to other types of motor-vehicle collisions, wrong-way collisions tend to result in serious or deadly injury, particularly when these head-on collisions occur at highway speed.
Frequently, such drivers are intoxicated or have a bad driving record, which often leaves them on the road without a valid license and/or adequate auto insurance. These can be devastating cases for families dealing with the consequences of an irresponsible motorist with no way to pay a damage claim.
UM/UIM Insurance Claims in Massachusetts
The complex nature of today's blended households can also impact uninsured motorist (UM)/underinsured motorist (UIM) claims. The Insurance Journal reported a recent case in which a Massachusetts Appeals Court ruled in favor of an insurer. The court ruled the insurer was not required to pay underinsured motorist coverage to a plaintiff who sought coverage under a policy held by his long-term partner's mother and stepfather.
It's an important decision for a number of reasons. Massachusetts is among states that prohibit insured consumers from stacking UM/UIM benefits. Other states permit accident victims from collecting on (or stacking) insurance policies in place on other vehicles in the household. So the narrow scope of inclusion taken by justices in this case further limits rights of collision victims.
The appeals court upheld a Superior Court decision that the plaintiff could not be considered a family member because he was not related by blood to either policy holder. Coverage under the policy was not extended despite plaintiff having lived in the home since 2012 with his partner, and his partner's parents. In the policy, the term "household member" is defined as "anyone living in your household who is related to you by blood, marriage or adoption. This includes wards, step-children or foster children."
In a dissenting opinion in Derrick Martins Oliveira vs. The Commerce Insurance Company., Associate Justice Edward McDonough said the majority did not consider intent of statute, which requires all motorists in Massachusetts to be covered by uninsured motorist (UM) coverage. To exclude non-conventional familial relationships is to undermine the intent of the law, he reasoned.
"To these 'changing realities' of the modern American family, the majority turns a blind eye, thereby limiting UIM coverage to accident victims belonging to conventional families…to the exclusion of… an unmarried parent and household member victimized by an underinsured intoxicated driver," McDonough wrote. The dissenting justice noted it could pave the way for denial of coverage for other nontraditional family members who believe they are insured.
Our Boston car accident lawyers believe anyone dealing with an insurance company following a serious or fatal motor vehicle collision deserve immediate access to qualified legal representation. The complexities of  uninsured motorist (UM)/underinsured motorist (UIM) claims can leave your without coverage if handled improperly. Even though these claims proceed through your own insurance company, you will be treated not as a customer but as any other claimant.
Automotive insurance can be a lifeline in the event of a serious crash. But unless you purchase uninsured motorist (UM)/underinsured motorist (UIM) coverage in significant amounts, your policy is primarily meant to protect other motorists in the event you are found at-fault for causing a collision. Please make sure your policy adequately protects you in an emergency by making sure you and each member of your household is covered by uninsured motorist (UM)/underinsured motorist (UIM) coverage in significant amounts. When a collision occurs, please reach out to an experienced law firm to protect your rights. Do not expect an insurance company, even your own, to do the right thing.
If you are injured in an accident in Massachusetts, call Jeffrey Glassman Injury Lawyers for a free and confidential appointment — (617) 777-7777.
Additional Resources:
Driverless cars return to Boston streets after fatal Uber crash in Arizona, March 28, 2018, By Adam Vaccaro, Boston Globe
More Blog Entries:
Massachusetts Drunk Driving Accident Victims Must Fight Hard for Compensation, Feb. 25, 2018, Boston Drunk Driving Accident Attorney Blog