Terran Hasslebach now plays a hybrid linebacker and defensive lineman for the top-ten ranked Colorado football team.  His is the son of Super Bowl-winning Harald Hasselbach.  While he hopes to follow in his father's footsteps and play in the NFL one day, he almost didn't make on a high school football field due a very serious car accident. That's according to a recent story from ABC News.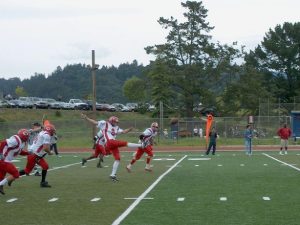 In 2010, he was sitting in his father's BMW when they were hit by another car that was traveling at 60 miles per hour. The driver of the other car had allegedly run a stoplight and then crashed into them at high rate of speed.  His father said he remembers the exact moment of the crash and that there was no time to swerve or to even slow down.  He said he was thinking about his son and thought they might not survive the horrific crash that was about to happen. The younger Hasselbach does not remember much from that accident after the impact.  He barely remembers his father lifting him out of the car and the ride to the hospital.  He has no memory of the doctors working on him.  He said he has a brief memory of his father holding his hand on the ride to the hospital that day.
Following the accident, he was diagnosed with a broken foot and broken disc in his spine.  He knew he would be able to walk again but wanted to know if he would ever be able to play football again.  There was no easy answer to that, and his doctors told him that a lot would come down to how much he really wanted to play, because there would be a long road ahead and a lot of work in terms of rehabilitation.
As it turned out, it took him three years before he was able to step foot on the field at a high school game and make his way to a NCAA football team where he is now working towards being drafted in the NFL one day.  His father actually went undrafted in the NFL and played in the Canadian Football League (CFL) along with fellow NFL star Doug Floutie before getting his break in the NFL, where he would eventually do on to win the Super Bowl.
As you can discuss with your Boston car accident lawyer, it is not only hard work to go through all of the rehab following a serious car accident, but it is also very expensive.  This expense is one type of allowable compensatory damages in a car accident lawsuit, and it is something your attorney can demand when calculating damages.  Typical damages will also include full and appropriate compensation for pain and suffering, medical bills, and other types of special damages, as they are often called.  The cost of past and future rehabilitation expenses can also be claimed, so long as they are reasonable.
If you are injured in an accident in Massachusetts, call Jeffrey Glassman Injury Lawyers for a free and confidential appointment — (617) 777-7777.
After Car Accident, Colorado's Hasselbach Grateful to Play, November 24, 2016, By Pat Graham, ABC News
More Blog Entries:
Report: Fall River Teen Killed in Car Crash on Way to Prom, June 26, 2016, Boston Car Accident Injury Lawyer Blog