According to a recent news feature from CBS Boston Local, a young child was injured near a school bus stop in Norfolk, Massachusetts. The child was only 26 months old and was thrown clear of the collision and into a group of trees.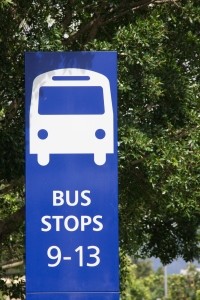 Witnesses have said this child was walking to the bus stop along with his mother and older brother, who was going to ride the school bus that morning.  While they were walking to the bus stop, the child ran into the road suddenly and was hit by a car that had been driving.
At the time the BMW hit the toddler, there were many people at the bus stop, and witnesses say that practically everyone there was either crying, screaming, or both.  The child's father was called to the scene as first responders arrived.  After arriving at the scene of this tragic accident, first responders found the child to be conscious and responsive, but they feared he was in serious condition.
For this reason, EMTs called for a medevac helicopter to fly the boy and his parents to Tufts Medical Center, which is a level-one trauma center in Boston's Chinatown neighborhood.  While his exact condition is unknown at this time, he is expected to survive, and somehow he managed to avoid suffering any broken bones when being hit by a car.
As for the driver of the BMW, witnesses say the 44-year-old woman who lives nearby was clearly shaken up and stayed on the scene to speak with local police when they arrived.  She was fully cooperative with the police about this horrific accident, and no charges were filed against her.  Despite having a fairly good sense of what happened, the police say they are continuing to conduct a full investigation to confirm the suspected cause of this Boston area car crash.
That afternoon, the police were still at the bus stop and assisted parents to get their children safely off the bus.  As one could imagine, many of the other parents and students were still very upset about the events that unfolded earlier that morning.  It should be noted that there have been no accusations that the driver of this BMW was in any way negligent with respect to this car accident involving a young victim.
As you can discuss with your Boston car accident lawyer, there are some accidents in which the defendant, or more likely his or her insurance company will argue that you were partially or even fully at fault in connection with your actual car accident. While this is a common defense, it doesn't mean that they will be successful in their defense.  There are a variety of factors that will affect the outcome of such a case, but as long as the other driver was at least partially negligent, there is a better chance that you will have valid case.  However, there court may look at the relative fault of each party when deciding whether to award a full and appropriate financial compensation to the victim or the victim's family.
If you are injured in an accident in Massachusetts, call Jeffrey Glassman Injury Lawyers for a free and confidential appointment — (617) 777-7777.
Additional Resources:
Toddler Hit By Car Near Norfolk School Bus Stop, September 14, 2016, By Carl Stevens, CBS Boston Local
More Blog Entries:
Car Accident Lawsuit Victim Awarded $800k in Judgement Against City for Worker Negligence, June 29, 2016, Boston Car Accident Lawyer Blog