If you've been seriously injured in a parking lot accident, the at-fault driver might not be the only party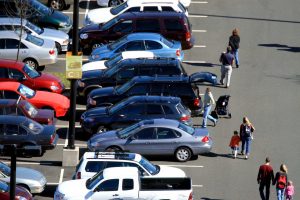 responsible for the accident and your injuries.
Parking lot owners and operators are required to maintain their premises in a safe condition for both motorists and pedestrians. This includes keeping the premises well-lit and well maintained as well as installing bollards when appropriate.
Bollards are the short posts that you see in the space between parking lots, storefronts and bordering other areas where groups of pedestrians are likely to pass. These safety devices are about two to three feet in height and usually painted yellow or some other bright color. Most are made of metal or concrete and spaced out to create what's known as a "bollard barricade."
There are bollards located outside of Fenway Park and other high traffic areas around the greater Boston area, including in front of convenience stores, shopping malls, restaurants and office buildings.
Bollards are impact-resistant, which means that, when installed properly, they're able to stop a car or other motor vehicle from accessing sidewalks, walkways, other restricted areas and crashing into storefronts. Bollards protect against both accidental and intentional acts.
According to statistics from the Storefront Safety Council, the bulk of vehicle-into-building crashes are accidental. The organization says approximately 40% of these crashes are caused by driver error and pedal error, 16% are caused by motorists driving under the influence and 9% are caused by medical conditions. 6% are caused by "ram-raid" incidents, which occur when a vehicle is driven through a store door or window intentionally for looting purposes.
Who's Responsible for My Parking Lot Accident?
So, who's responsible for an accident that would have been prevented if bollards had been installed? That all depends on the situation. While the at-fault motorist most likely will bear some responsibility, the architect or engineer who designed the parking lot could be held liable as can the parking lot owner and operator. If the parking lot is owned by a government entity, like many parking lots throughout the Boston area, the government entity can be held liable.
One factor that will influence your chance of success in recovering from a parking lot owner or operator is a personal injury concept known as reasonable foreseeability. In this context, reasonable foreseeability refers to whether or not the person responsible for your injury knew or should have known that the injury could have been prevented had bollards been installed. Similar accidents in the same location could establish that the parking lot owner or operator had the ability to predict and prevent your accident.
It's worth mentioning that bollards are considered to be standard in the industry when it comes to protecting pedestrians from motor vehicles. They provide better protection than other barriers, such as fences, that separate vehicles from pedestrians. Bollards tend to be preferred because they provide pedestrians with multiple points of entry and are less obtrusive.
Make no mistake, parking lot accident injuries can be serious and even fatal. A moving car—even one that's not speeding—can inflict serious damage and leave a pedestrian with devastating injuries, including head, neck and spine injuries; broken bones; burns; internal organ damage and even paralysis. These injuries are not only painful and traumatic but can cause permanent disability.
Jury Awards $32 Million to Estate of Massachusetts Woman Killed Entering Store
One lack-of-bollards case that has made headlines across the nation, involved a Massachusetts woman killed in 2010 while walking into a Cumberland Farms convenience store in Chicopee.
Kimmy Dubuque, 43, was struck by a sport utility vehicle operated by an 81-year-old driver who was believed to have suffered a stroke while driving through a nearby intersection. The vehicle sped through the intersection into the Cumberland Farms parking lot and crashed into the front of the store. The driver was not charged and died prior to trial.
Dubuque's estate filed a wrongful-death suit against Cumberland Farms. The estate claimed that Cumberland Farms was negligent in failing to install bollards or some other kind of barrier in front of the store to protect customers even though the company knew that its stores and pedestrians had been hit by vehicles an average of once per week over the past 20 years. Traffic experts for the estate testified that the store's parking lot was poorly designed and that bollards should have been used and would have prevented the deadly accident.
Cumberland Farms argued that there was no law requiring it to install bollards or other barriers. An accident reconstructionist for Cumberland Farmstestified that bollards or barriers would not have prevented the accident because the car was traveling too fast. The vehicle reportedly was traveling at 57 miles per hour when it struck Dubuque.
Following a two-week trial in 2016, a jury for the Hampden County Superior Court found Cumberland Farms negligent and awarded the estate $32.3 million in damages. A judge later reduced the award to $20 million and rejected the defendant's request for a new trial.
The Massachusetts Court of Appeals upheld the verdict in 2018. You can read the appeals court's decision here. On appeal, Cumberland Farms argued that it could not have stopped the accident given the size and speed of the vehicle and noted that there had been no prior accidents of a similar nature at the Chicopee store. The convenience store also claimed that the trial court had erred in allowing the jury to view a company document detailing 485 vehicle strikes across all locations from 2000 to 2009.
The case is one example of how a store can be held liable and forced to pay millions of dollars for an accident that likely could have been prevented by bollards or some other safety device.
To learn more about how the parking lot accident lawyers at Jeffrey Glassman Injury Lawyers, LLC can help you with a lack of bollards injury claim, contact our law office at (617) 777-7777 or use our online form.