It is hard to imagine anything scarier than being trapped in a car following a serious car accident.  Unfortunately, this was the case for one family, according to a recent news feature from the Boston Globe.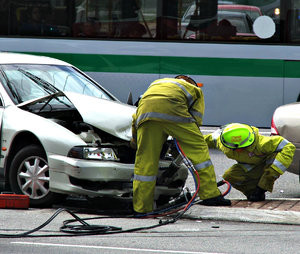 Authorities report the crash occurred in Boston's Roxbury neighborhood just before eight in the evening.  After multiple vehicles crashed into each other at a major intersection, authorities were called to the scene. When they arrived, they came upon a real mess and immediately went to work rescuing the victims.
In one car, rescue workers found a child along with an adult who were both trapped in their wrecked vehicle.   Boston firefighters were able to cut the two victims out of the car using heavy rescue equipment.  In addition to traditional fire equipment, rescue personnel used special hydraulic equipment designed to lift crushed vehicles and to cut through the metal exterior of a car, just as the Jaws of Life.
These two victims were soon freed from the car and rushed to a local level-one trauma center by Boston Fire and EMS workers. One of the victims had suffered what are described as only minor injuries and another victim suffered more serious injuries as a result of the serious Boston car crash.  While both victims' injuries are not considered to be life threatening, it has not been released whether it is the adult or the child car accident victim that was more seriously injured.
One person in the accident was more seriously injured, and the victim's injuries were reported as being life threatening, however it is not known in which car this victim was riding, and it is not known exactly what happened or how this accident occurred. The Boston Police Department motor vehicle accident reconstruction team was dispatched to the scene of the serious multi-vehicle accident to try to make sense of what happened.
In an accident with multiple victims, it is often difficult to determine exactly what happened.  While it is often the police that will make a determination as to what exactly happened, that is not always the case.  In come cases, your Boston car accident lawyer will send his or her own accent investigator to the scene to see exactly what happened.  Often times, witnesses are more willing to talk with a private investigator than they are with the police.
However, it is important to speak with an attorney as soon as possible, because the sooner the investigator can get to the scene the better.  Some things like skid marks will soon be washed away, and witnesses will be harder to find.  While the police are supposed to take down the names of witnesses, the system is not always perfect, so it doesn't hurt to give the area a second look and canvas for any witnesses who were not mentioned in a police vehicle crash report.
The police had to close the intersection for a considerable amount of time for the accident team to do their job and for the intersection to be cleared.
If you are injured in an accident in Massachusetts, call Jeffrey Glassman Injury Lawyers for a free and confidential appointment: (617) 777-7777.

Additional Resources:
Three hurt, including child, as cars collide in Roxbury, April 10, 2016, Boston Globe, By Aneri Pattani
More Blog Entries:
Floyd-Tunnell v. Shelter Mut. Ins. Co. Uninsured Motorist Coverage and Stacking, July 3, 2014, Boston Car Accident Lawyer Blog