In many car accidents, the force of the collision can be tremendous. However, there are many safety systems these days that significantly increase your chance of surviving what would otherwise be a serious or fatal car accident.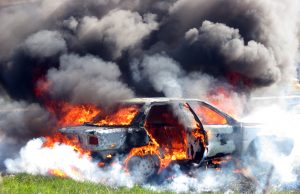 For example, a properly fitted seat belt can prevent a car accident victim from going through the front windshield or otherwise being ejected from a vehicle.  It is an unfortunate fact that most victims ejected from a vehicle following a car crash do not survive the accident.  It is also a fact that virtually all of the accident victims who are ejected from a vehicle were not wearing a seat belt at the time of the crash.
Airbags, while far from perfect, as our Boston car accident lawyers have seen in recent cases, have still done an incredible job saving people's lives who are involved in serious car accidents.  These days, there are more airbags the passenger compartment than ever before.  While there was a time when there were only front airbags, we now have side airbags, roof airbags, curtain airbags, and even ones built in the seat.
However, despite all of these safety features, one of the scariest things that can happen is if you are in a car accident and the car catches on fire.  Whether we are talking about a NASCAR race or a crash on the Mass Pike, a burning car is a scary sight.
According to a recent news feature from The Falmouth Patch, a woman was recently saved from her burning vehicle after a crash on Cape Cod.  The crash occurred on the Cape around six in the morning.  She was driving near the entrance to a local technical college when she was involved in a serious car crash.
Following the initial impact, she became trapped in her car, as the doors were pinned shut, and to make matters worse, her car burst into flames.  It is hard to image what this car accident victim was going though at that moment, but it was clear that she would not likely survive long if she did not get clear of the burning wreckage.
Fortunately for this woman, two other drivers saw what was happening and immediately pulled over to see if they could help.  Police have said that two bystanders rushed towards the burning car and managed to pull her clear of the wreckage before the flames got worse to the point where the vehicle was basically a giant fireball.  They said that if they waited even a minute longer, this woman would not have survived.
The police conducted a primary investigation into the cause of the accident and determined that they had sufficient probable cause to charge the woman with operation of a motor vehicle to endanger.  This is basically a reckless driving charge in the Commonwealth.  She was also cited with the civil moving infraction known as a marked lanes violation.  It is important to note that she has not been convicted on any crime in connection with this Cape Cod car accident and is presumed innocent unless and until she is found guilty in a court of law.
If you are injured in an accident in Massachusetts, call Jeffrey Glassman Injury Lawyers for a free and confidential appointment — (617) 777-7777.
Additional Resources:Woman Saved from Burning Car in Cape Cod Crash, September 12, 2016, By Jason Claffey, Falmouth Patch
More Blog Entries:
Report: Fall River Teen Killed in Car Crash on Way to Prom, June 26, 2016, Boston Car Accident Injury Lawyer Blog