A tragedy has put parking lot safety in focus as we enter the holiday shopping season after a toddler was run over in a parking lot accident.
Boston News 7 reported a 2-year-old walked away from her mom in a YMCA parking lot. The little girl sat down in a parking space, where she was run over by a motorist who didn't see her. She was rushed to the hospital, but died from her injuries. Posters on Facebook suggested the parking lot was not big enough to accommodate traffic, which they contended was partly to blame for the tragedy.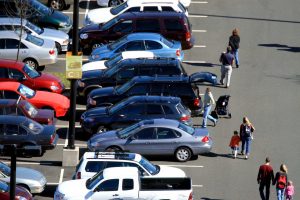 We recently wrote about the risk of storefront collisions in Boston. Parking lot accidents are another significant risk. Auto insurers report claims spike on Black Friday at the start of the holiday shopping season.
December is the busiest shopping month of the year and nowhere are shoppers more at risk than in parking lots. Parking lots are dangerous places and by some estimates are the scene of 1 in 5 traffic collisions. The National Safety Council reports more than 50,000 parking lot collisions occur annually, resulting in more than 5oo deaths and 60,000 injuries.